WORDPRESS WEBSITE MANAGEMENT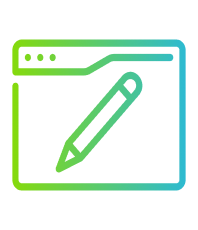 Keep Shining. Keep Smiling.
A website is never "done". From updating your About page with new team members, to adding new services, or changing out photos there is always something to manage on your website. Our WordPress Website Management service is here to do it all for you so you can keep running your business.
Having a dedicated website management team means you never need to worry about your website. We're here to make sure your site is up and running so that it can always showcase your business in the best light. We also provide website hosting packages with all the storage that you need for your website plus an SEO must-have: an SSL certificate.
Need help maintaining your website? Get in contact today!
What Our Client Had to Say:
Our Website Hosting & Management Packages
We provide fast, secure, and eco-friendly hosting for our websites. With speedy servers, an SSL Certificate, and protection against malware and malicious activity, you can trust that your website will be ready for your clients 24/7. And, if there ever is a problem, we can take care of the nerdy stuff for you. We handle the tech support and get to the bottom of hosting issues without missing a beat.
Our website management team is here to help with whatever questions or updates you need. Each month one hour of support time is included in your hosting and management packages to use however you see fit. From updating or adding new pages, to website backups and software updates. We're here to make sure that maintaining your website is off of your to-do list. Don't have a WordPress website? We can work with WIX, Squarespace, and Shopify websites too!
Hosting and Management packages start at $110. This is a great fit for most small businesses and includes:
1000 MB Disk Space

Unlimited Bandwidth

SSL Certificate

Weekly backups

Monthly software updates

1 Hour of free support ($110 value!)

Monthly report on your website health.
Custom packages are available for larger websites and e-commerce websites. Contact us today for more information!
Our Services:
WEBSITE DESIGN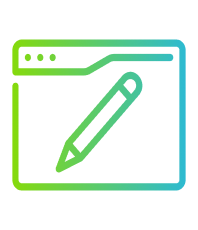 Websites That Glow
Your website is always "on" so you don't have to be. We make sure that it reflects the right message. 
You need a reliable website that makes your business shine, even when you're off the clock. Whether you have an established business that's ready for custom website design or a start-up that needed a website yesterday, we've got a digital solution for you!
SEO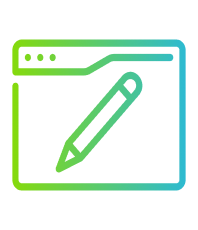 Be Seen in the Search Results
Search Engine Optimization (otherwise known as SEO) ensures your website is in tip-top shape to make it to the top of the search results. To put it simply: SEO makes your website look great to search engines, so you can show off your business to potential customers.
Let's get started so you can get to that number-one ranking!
BRAND DESIGN
Your Brand New Look
Branding is so much more than just a good logo (though we do make great logos). We're here to design your full branding package – logo, style, attitude, and all. Having cohesive branding encourages customer trust and helps keep your business on the top of consumers' minds.
First impressions count – make yours spectacular.
DIGITAL ADS
Big Results in No Time
Want to reach the right audience at the right time? Digital advertising is how you do it. From social media advertising to Google Ads we make sure your message gets through to customers old and new. From increasing reach to increasing sales digital ads are how you cut through the online noise.
Ready to reach your new favorite customers?
Insights from the Blog:
Picture this: It's 2013, an art major turned accidental entrepreneur, armed with a passion for graphic design and web development, jumping headfirst into the chaotic world of business. I mean, what could go wrong, right? As I dabbled in building websites with my husband while producing ad campaigns for colossal global brands, I couldn't help…

When planning a digital marketing strategy for your business you'll need to decide on your approach: PPC, SEO, or both? With the ever-increasing importance of digital marketing for small businesses, it's critical that clients old and new are able to find you online. But the internet doesn't always make it easy. No matter your industry…

The time when a business could get by without a website, or with a just-okay website is long gone. Now businesses of all shapes and sizes need to have a strong online presence to get (and keep) customers! Building a website that converts is an art and a science, and one that we are pretty…