Local SEO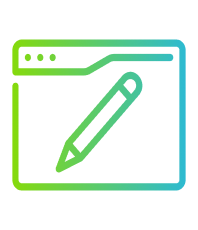 Dazzle in the Local Search Results
Make it easy for new customers to find your business with our Local SEO services. Local Search Engine Optimization (SEO) helps your business show up at the top of search results when someone in your area is looking for a business like yours. It's simple – being easy to find online equals more customers.
Two of the most important factors for local SEO are NAP score and online reviews. Your NAP (Name, Address, Phone) Score is an overall ranking of how accurately your business information is presented online. Inconsistent NAP data isn't just confusing for your customers, it confuses search engines, making them rank you lower in search results. Additionally, your online reviews impact not just your rankings, but negative reviews can turn away potential customers. Making positive changes to your NAP Score and online reputation helps to increase your Local SEO standing.
Want to learn how we do it?
Our Local SEO Services
LISTING AMPLIFIER
To ensure your NAP data is listed across the web properly, we use one of the most advanced listing amplifier platforms available. Keeping up to date with hundreds of directories could easily become a full-time job. But with this service, we can populate accurate data for your business to all relevant sites across the web and easily update information whenever necessary.
$50/Month per location + $100 initial setup
REVIEW GENERATOR
People are more likely to leave a review when they've had a bad experience, so it's important to encourage happy customers to review you too! Our Review Generator service uses the best in automated programming to nudge satisfied customers to leave a review and allows unhappy customers to give private feedback. This helps turn your customers into your biggest promoters.
$60/Month per location + $100 initial setup
*Ask About our Legal and Medical add-ons for Only $10/month.
LOCAL SEO BUNDLE
Includes both the Listing Amplifier and Review Generator. Save $120 per year!
ONLY $100/Month per location + $150 initial setup
Our Services:
WEBSITE DESIGN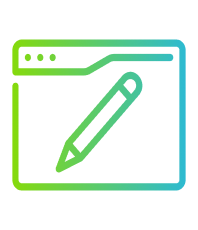 Websites That Glow
Your website is always "on" so you don't have to be. We make sure that it reflects the right message. 
You need a reliable website that makes your business shine, even when you're off the clock. Whether you have an established business that's ready for custom website design or a start-up that needed a website yesterday, we've got a digital solution for you!
SEO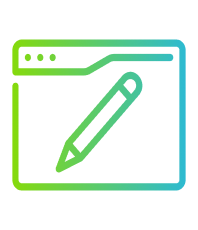 Be Seen in the Search Results
Search Engine Optimization (otherwise known as SEO) ensures your website is in tip-top shape to make it to the top of the search results. To put it simply: SEO makes your website look great to search engines, so you can show off your business to potential customers.
Let's get started so you can get to that number-one ranking!
BRAND DESIGN
Your Brand New Look
Branding is so much more than just a good logo (though we do make great logos). We're here to design your full branding package – logo, style, attitude, and all. Having cohesive branding encourages customer trust and helps keep your business on the top of consumers' minds.
First impressions count – make yours spectacular.
DIGITAL ADS
Big Results in No Time
Want to reach the right audience at the right time? Digital advertising is how you do it. From social media advertising to Google Ads we make sure your message gets through to customers old and new. From increasing reach to increasing sales digital ads are how you cut through the online noise.
Ready to reach your new favorite customers?
Insights from the Blog:
Picture this: It's 2013, an art major turned accidental entrepreneur, armed with a passion for graphic design and web development, jumping headfirst into the chaotic world of business. I mean, what could go wrong, right? As I dabbled in building websites with my husband while producing ad campaigns for colossal global brands, I couldn't help…

When planning a digital marketing strategy for your business you'll need to decide on your approach: PPC, SEO, or both? With the ever-increasing importance of digital marketing for small businesses, it's critical that clients old and new are able to find you online. But the internet doesn't always make it easy. No matter your industry…

The time when a business could get by without a website, or with a just-okay website is long gone. Now businesses of all shapes and sizes need to have a strong online presence to get (and keep) customers! Building a website that converts is an art and a science, and one that we are pretty…